These equipment support products are manufactured for us by something SOLID discount may apply to prices below for multiple items:-
Some HiFi components such as turntables or valve equipment are well known to be vibration sensitive. External vibrations cause the equipment or components to vibrate causing coloration of the audio signal. The worst vibration problems usually occurs when sound from the speakers causes the equipment to vibrate due to either the sound pressure in the air or passing through the floor directly. Such vibration will be correlated to the music signal and difficult for the brain to separate from the music information. Actually more equipment is vibration sensitive than widely thought. CD transports can be very sensitive as can the digital to analogue circuits.
Often equipment has rubber or soft feet which might damp some vibrations but allow other vibrations to resonate, robbing music of life & timing .
Having evaluated something SOLID's equipment support products we would say simply that they deal with vibration problems in a musically sympathetic way. This is a key area to get right in any system and in most systems these products will make a fundamental and cost effective upgrade.
Shelf finishes - Maple, Oak, Cherry, Walnut, Mahogany, Cognac or Ebony.
EXR Rack:-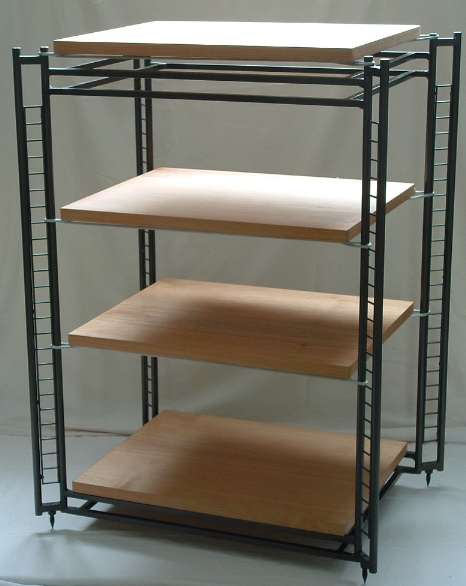 EXR Cost £360 with 3 suspended T19 shelves or £420 with 4 suspended T19 shelves.
XR Rack:-
Click for review:- XR Review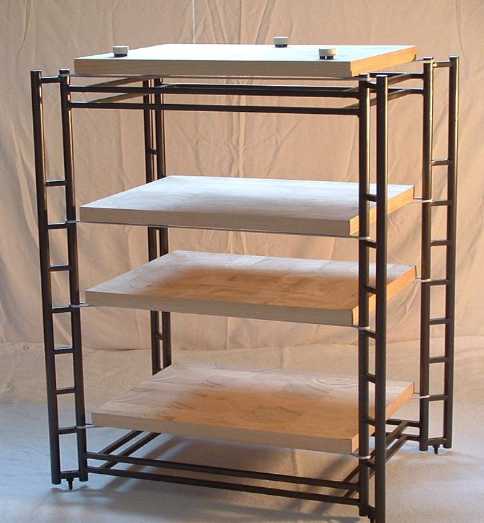 The XR rack has a stronger construction from thicker steel rod to give better performance than the EXR. The rack can accomodate a maximum height for all internal equipment & shelves of 60 cm plus the top shelf equipment. Often 5 items of equipment can be accomodated. Shelves up to 46cm width can be used. The overall width & depth of the rack is 59 * 43 cm.
XR Cost £675 with 3 suspended DS2 shelves or £825 with 4 suspended DS2 shelves.
Also shown in the photo is the top of the range DS Dissipating Shelf made from end-grain balsa and ply. The shelves are 46 cm wide, 36 cm deep & 2.6 cm thick.
Individual shelf prices:-
TS Shelf Support - £25.
T19 Shelf - £35
DS2 Shelf (includes 3 DF Feet) - £125.
Missing Link:-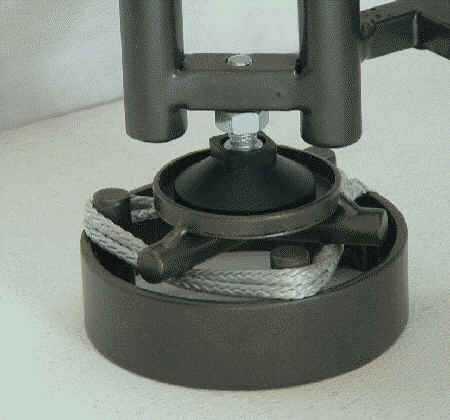 The Missing Link feet provide an upgrade alternative to spikes for supporting racks & speakers. They use a coupling of special pre tensioned cord to provide additional vibration dissipation and isolation. The picture above is an old version, the latest version accepts spiked equipment. In particular they reduce feedback between speakers and equipment which occurs through the floor. They can be used with many types of racks, speaker stands or floor mount speakers. They raise equipment by about 6cm that is about 5cm more than spikes.
ML Feet Cost:- £32 each. Discounts apply when purchased with a rack or speaker stands.
Dissipating Feet:-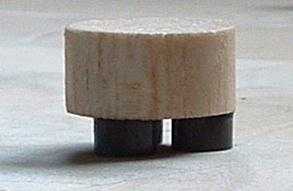 The DF Dissipating Feet are used between equipment and shelves. They provide some dissipation of vibrations but work mainly by allowing equipment vibration to be transferred into the shelf. They are constructed of end-grain balsa & end-grain carbon fiber. They will upgrade existing feet on many equipment, in particular rubber of soft pad feet. Their height is 1.6 cm.
Cost £20 pk of 3
Little Links:-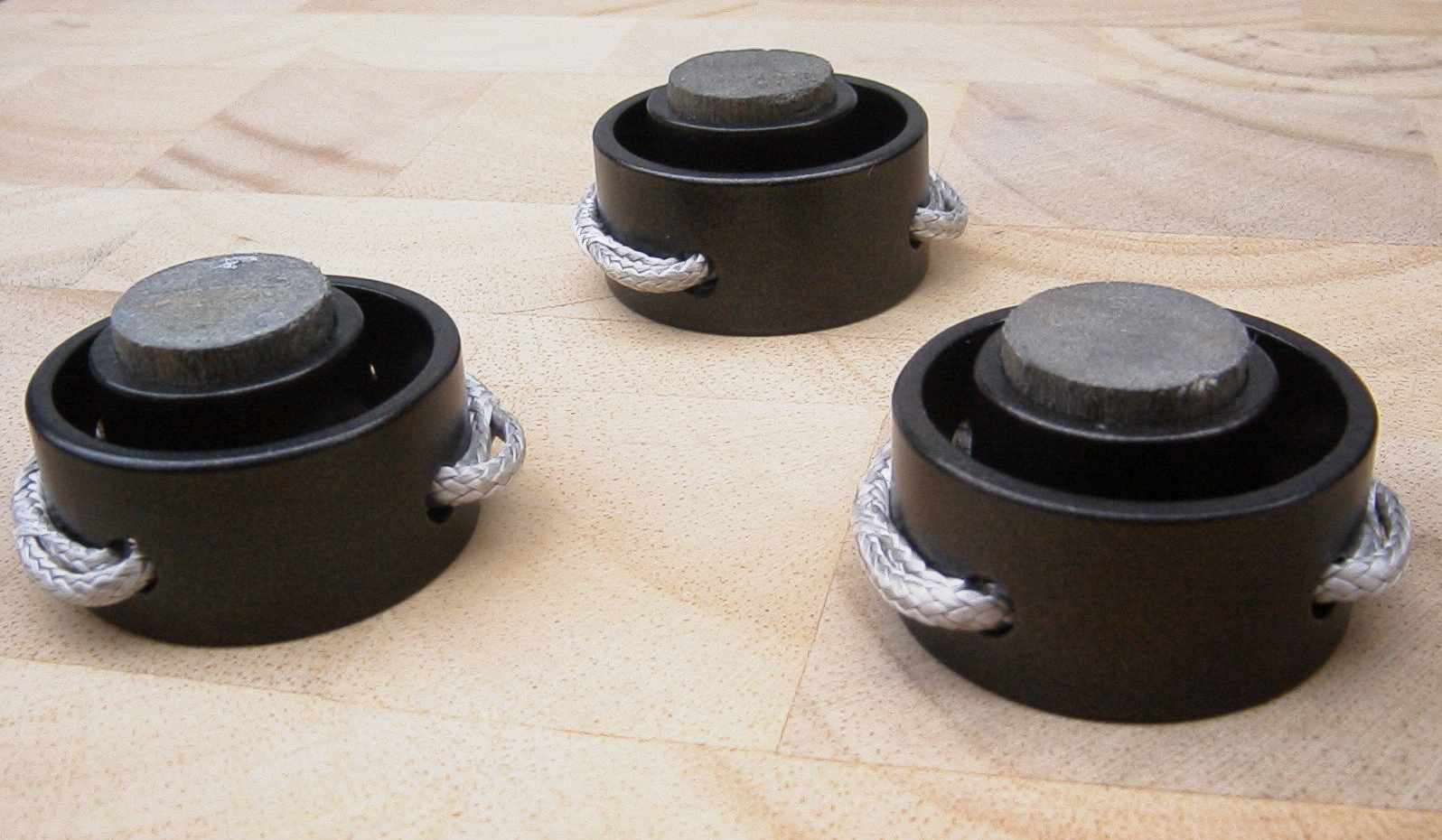 Similar to the Missing Links (see above) these feet use tension cord and end grain balsa to isolate and dissipate vibration and are particularly effective under CD Players and transports. Normally 3 will do, under a turntable 4 might be better. Price £30 each .